If you have just acquired DemosCAD, then you will notice it has a similar interface with AutoCAD.
The two diagrams below show the top part of both interfaces as labeled in the captions. The Menu bar is the one that starts with File menu from the left, while the ribbon below it starts with the Home tab. When DemosCAD is launched, the Home tab is already open by default. It has very many icons. Each icon represents a tool that performs a certain function in AutoCAD.
DemosCAD Interface showing the Menu bar and the Ribbon
AutoCAD Interface showing the Menu bar and the Ribbon
You can start using DemosCAD by clicking any icon on the ribbon, for instance, on the Home tab, you click the Extrude icon, which is the blue icon in the Modelling panel, second one from left.
This means you have clicked the Extrude tool.
A dialog box will appear as shown in the diagram below. Notice it has the name of the tool after 'SkyTOP DemosCAD' and a hyphen.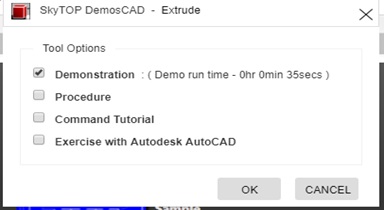 Dialog box of DemosCAD where the 'Demonstration' option is checked
There are four options. Check the appropriate option depending on the action you want to perform.
For instance, to view a demonstration, you check the option named 'Demonstration'.  The time length of the demo is shown in brackets, and this is also an indication that your internet connection is working properly, in case you are using the web version.
Click OK to view the demo of how the Extrude tool works in AutoCAD.
The dialog box disappears as soon as you click OK to start viewing the demo. To use any other option of the tool from the dialog box apart from 'Demonstration', you click on the tool again. The dialog box will reappear.
Use the check and click OK procedure for any other option in the dialog box you may want to use.
The second option, 'Procedure' is used to open a PDF document with written instructions on when the tool is should be used and how the action it performs can be modified further.
The 'Command Tutorial' option is used to open tutorial videos that expound further on the use of that particular tool and it can be used together with other tools to realize fascinating design ideas.
The last option, 'Exercise with Autodesk AutoCAD' is used to download a demo file that automatically opens in AutoCAD. The demo file is a .dwg file that contains a similar exercise to what is shown on the demo. It enables you to perform an exercise in AutoCAD whenever you click a tool.
Enjoy using DemosCAD.